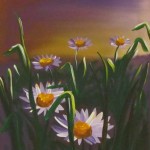 Are you a sell out? You know that thing they call an artist when they actually find a way to make a living from their art…
I've heard it so many times at show openings and art gatherings…"Did you hear about (pick a name)?! What a sell out! They totally compromised their art to make a buck!" Well…let me tell you something…if you were a vegan for moral issues, not health issues… stranded on a rock in the middle of nowhere and hadn't eaten for days and someone showed up with a piece of fish…would you be a sell out for eating it or a survivor who could climb down off the rock with your new found energy from eating the fish?
I like to think of myself as a fairly moral person and I have professed for years that I don't want to fit in a box and be labeled and have to conform to societies definition of "ok" but I am also a survivor. I have survived many traumatic situations and it is because I have a will to look for ways to make what I see as "right" fit into what the world "expects" from me. I still refuse to fit into one box but I am figuring out how to use societies boxes to survive.
Recently, I was invited to participate in an art festival in Colorado http://www.flavorsofcolorado.com/ and they asked me to bring a little bit of everything I do…I was so excited to have an opportunity to spill out of the box and show off all my skills and talents…It was perfect! I didn't have to have a niche…I didn't have to have ONE box! So I took a bunch of boxes and paintings and stuff and a little bit of this and a little bit of that…I took so much stuff I couldn't see out the windows as I drove down the scenic highway to get to the festival!
I sold a little of everything but didn't sell much of anything…bummer…what a buzz kill… I did sell some of my "quick demo" paintings that I thought were ok, but not spectacular…and I sold some jewelry and other small things… But the weather was fantastic and I got to sit with my feet in the cool grass and listen to fabulous music all weekend! I also had time to visit with my neighboring vendors and learn from their experiences and see some of them work their magic!
The Vail Valley Art Guild, http://www.vailvalleyartguild.com/ had some wonderful artists and did demonstrations and had everything from pottery to painting and photography and I truly enjoyed watching them work and looking at their art, but like me…they didn't sell much. Not that their work wasn't phenomenal…it was truly inspiring! Folks just don't go to festivals like that to buy expensive art and then have to carry it around a festival the rest of the day…
One vendor was particularly successful selling…They had one thing and it could fit in a purse or pocket or worn as they walked through the fair… Urban Poncho, http://www.myurbanponcho.com/ was just raking in the $$$ so I watched and took mental notes as Anne did her thing. I could probably sell them now too after hearing the sales pitch over and over and over…she had customers standing 3-4 deep listening to her go on and on all weekend about the many ways to wear that ONE poncho!
Ok…so you ask…"I thought you didn't want to have to have a niche?! It sounds like Urban Poncho has a niche…" Well…you are right! They do…but they have many niches…The main partner that started the company has "multiple businesse[s] a print brokering online business called www.NicePricePrints.com, a direct mail business, and have owned and published multiple magazines in the past. Furthermore, as a hobby I started sewing and have been a seamstress ever since." (quote taken from the About page on their website)
So…it's not just about not wanting to fit in a box…it's about being able to fit society's box into what you do. So…again don't fit in society's box…fit society's box into what you do…you can still do everything, but don't put your eggs in the same box with your anvil!
So what's my take away? Folks at festivals want something small and easy to manage at the fair. My new mantra for festivals is… "If it fits in a pocket or purse…it can still be diverse…" I will keep making my jewelry and small objects for festivals. That is one consistency I found between this festival and the last one…my jewelry sells…and I will keep doing my paintings but reserve them for gallery shows where they can be seen and not blown over by wind and folks looking are more willing to put it in their car and take it home because they aren't going to be walking around a festival for another 3 hours…